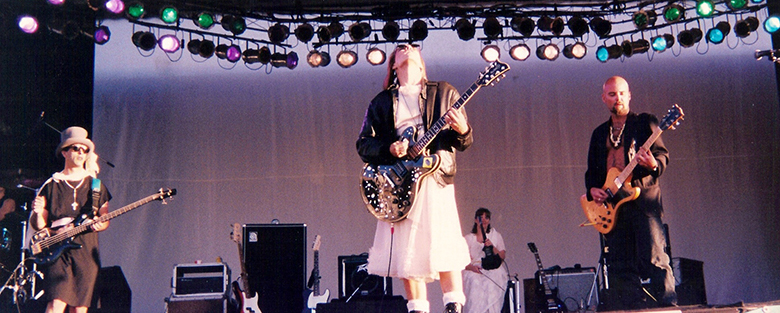 DEW (1991-1998) was a psychedelic instrumental rock band begun by composer/guitarists: Jeff Perkins and Ann Wood in Atlanta, GA.
DEW formed in August of 1991. The lineup consisted of: Mary Alexander on drums (1991-1994), Shane Sanders on bass (1992-1994 and 1996-1998), Victoria Liotta on drums (1995-1998), and Louis Stein on bass (1994-1996). DEW's live lineup also included briefly: Ray Surinck on bass, Michael Lorant and Kevin Turner on drums (1997-1998.)
DEW recorded three albums with Sister Ruby Records. The band toured extensively through the southeast and played during the torch running of the 1996 Olympics.
In 1995 DEW participated with Atlanta artists Indigo Girls, Shawn Mullins, Benjamin Smoke, Kelly Hogan and Five Eight in recording "Jesus Christ Superstar a Resurrection" the album. DEW performed the Overture as a part of the stage production in Atlanta, Austin SXSW, and Seattle.
The 2015 EP "I Feel Funny" of unreleased studio recordings (1996-1998) includes DEW's psychedelic punk version of Ted Nugent's song Stranglehold with Amy Ray as guest vocalist.